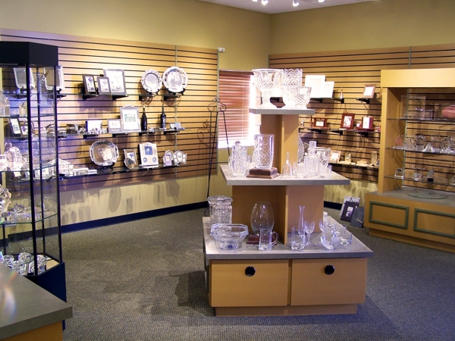 Expressions Engraved has been making gifts and awards Unique, Memorable and Personal since the year 2000. Expressions Engraved, Inc. is a privately held corporation with a showroom, warehouse and customization facility located in the heartland of America in St. Joseph, Missouri. In-house capabilities give us the control over almost all manufacturing and personalization processes.
The owner of Expressions Engraved, Inc. is David Takes, who is also one of the founders and current moderators of the awards and engraving industry's #1 internet discussion forum. Through various media, including his Blog on this website, David shares his industry experience, tips, tricks and strategies that have allowed his business to grow in popularity, even through the painful dips in the economy.
In 2008, the Expressions Engraved family moved into its completely renovated and expanded building. This new building was designed for efficient work flow and now helps us manage the important needs of our customers. Our broad range of customers consists of corporations, civic and non-profit organizations, schools, athletic groups, as well as many individuals.
As the Expressions Engraved name implies, our core services offered are engraving related. Our professional staff can engrave or etch today's most popular materials such as granite, marble, crystal, glass, wood, acrylic, leather, brass, aluminum, pewter, stainless and sterling silver.
Since its inception, Expressions Engraved has also provided precision engraving services to manufacturers and the construction trades. Our industrial engraving services are provided in a timely manner to respect the tight time frames in which the industrial sector operates.
In addition to our engraving and recognition business, out of the same location in St. Joseph, MO and also North Richland Hills, TX, a Dallas suburb, we operate a sister company named Promotional Product Partners, Inc.  Through this sister company we offer thousands of imprintable promotional products that are proven effective and affordable in branding and marketing your business, organization, campaign and/or events. Check us out at http://www.goppp.com.
Expressions Engraved has long been a member of the world's largest trade association for its industry called the Awards and Recognition Association (ARA).   Comprised of a collection of industry professionals and leaders from around the world, we are constantly updated on the latest products, engraving and marking techniques to better serve our clientele.
In 2014, we expanded our commitment to serving our clients through ever-changing internet technologies. This began with our newly expanded website, which you are currently visiting, combined with enhanced communication via e-mail promotions, as well as on social media networks such as Facebook, Twitter and LinkedIn. We also gladly service orders placed via fax at 816-232-6099.
At Expressions Engraved, we take great pride in our consistent attention to detail, whether it's on the simplest of pieces or on a high-end item valued in the thousands of dollars. You'll not only see this quality in our work, but you'll also notice it in the organization of our showroom and production areas.
The staff at Expressions Engraved is grateful for the many years of consecutive growth that we have enjoyed from our growing clientele, although the greatest gift is the small part we get to play in the celebrations of life's great moments.
Whether it is for a competition, wedding, birthday, promotion, or retirement, we plan to be here, serving our client's engraving, gift and awards needs, for a very long time.